Relax and breathe in!

The Hotel at the border of the forest offers a wonderful view. It is an ideal starting point for a walk or an extended walking experience in the forests or open landscapes of Holzerath. Your first short walk could take you to the little lake in the woods? Hopefully on a Sunday, because then there are often barbeque and drinks on offer there. Accompanied by children? Great! There is plenty of room for playing, be it at the water or on the grass. Organise a day for playing and relaxing here.
Holzerath is located in the wide "Naturpark Saar-Hunsrück" (Saar-Hunsrück National Park). A clean place to stay and fresh air to breathe. Long walking tours can start at Holzerath or -- if you want to go for a change -- at any other place in this wonderful area. You are not limited to forests: Between 10 and 30 minutes by car and you can walk through the wine yards along the rivers Mosel and Ruwer. Some of the best wines in the world are grown in those famous wine region called after its rivers "Mosel-Saar-Ruwer". Go for a wine tasting at the wine growers' in the evening!
You would like to see the oldest town of Germany? Trier is worth a trip. Go by bus or by car (20 minutes), be it for sightseeing or for shopping. This town was founded by the Romans more than 2000 years ago, and their history is still in its walls. Here is the right place to enter European history. On a sightseeing tour on the traces of the Roman emperors and gladiators you will visit their theatre ("Amphiteatre"), the ruins of the impressive thermal bath ("Kaiserthermen", "Barbarathermen"), and the cathedral. The latter combines the architecture of the Romans with the elements of their successors in the gothic and other epoches. Did you know that the himation worn by Jesus to the crucifixion is now kept in Trier's cathedral?
Staying at the Berghotel Holzerath offers you a nice environment, but also an ideal starting point for exploring woods, wine, and culture.
Taste our restaurant!
We serve various dishes with lamb, fish, calf meat, fresh salats and also regional specials depending on the season. The menu in German language is on-line.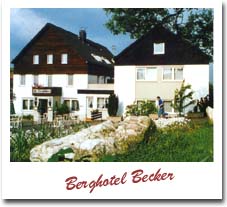 Our Service
The Berghotel offers:
25 beds
Comfortable single or double bedrooms
All rooms are equiped with shower (bath) and toilet
TV room
Sauna
Solarium
Nice restaurant
For conferences or parties rooms in different sizes for 20 to 80 people are available. No matter how many invitees will follow the invitation to your conference or bithday party: You can rely our restaurant staff.
Prices for rooms
Single bedroom:
44 Euros per night
Double bedroom:
72 Euros per night
Tripple bedroom:
90 Euros per night
Questions - Booking - Feedback
Please send your questions, booking requests, or feedback via email, dial +49‑6588‑7146
or book our hotel via booking form.